The design philosophy of Colin Chapman, founder of Lotus, was "performance through light weight". This is embodied perfectly in the Lotus Elise, released in September 1996.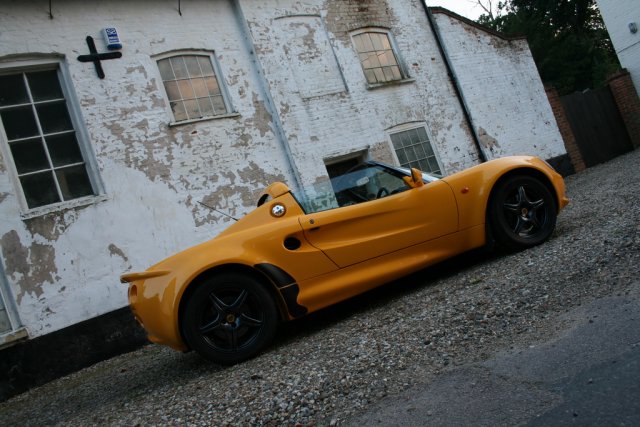 1996 Lotus Elise Mk1 Specifications
| | |
| --- | --- |
| Engine | Inline 4 cylinder, mid mounted |
| Displacement | 1976 cc |
| Max Power | 118 bhp |
| Max Torque | 122 lb/ft |
| Transmission | 5 speed manual, rear wheel drive |
| Weight | 723 kg |
| Power/Weight | 165 bhp/tonne |
| 0-60mph | 5.8 seconds |
| Max Speed | 126 mph |
| On Sale | 1996-2000 |
| Price (new) | £20,125 |
Unveiled at the Frankfurt Motor Show in September 1995, initial reactions weren't great. The styling was compared to that of a beach buggy by some observers, but the old fashioned exterior failed to highlight the futuristic design and materials that were hiding underneath.
The Elise was named after the granddaughter of Romano Artioli, the chairman of Bugatti Industries who had taken the brave decision to buy the struggling Lotus from General Motors in August 1993. At this time the only model in its range was the Esprit, an old design that was ready for retirement, and production of the last model in the lineup, the Elan, had just ceased. The Elan had been far removed from Chapman's philosophy having weighed just over a ton, and what Lotus really needed was to get back to its roots and produce a compact and, above all, light sports car. So, the Lotus Design Studio were set the task of creating a new car to transform Lotus' model range.
They came up with a design that took cues from Lotuses of old (Elite, Europa) and also returned to the use of glassfibre reinforced polyester for the bodywork. Underneath that would be a tub chassis constructed from sheets of aluminium that gave an exceptionally strong structure but weighed only 65kg. In production form and unladen the Elise tipped the scales at just 675kg.
Power would come from the 1976cc 4-cylinder Rover K-series engine, lifted from the MGF, that gave a relatively modest 118hp at 5500rpm and 122lb/ft of torque at 3000rpm. This would be delivered to the rear wheels through the MGF's 5-speed gearbox and driveshafts, giving 0-60mph in 5.9 seconds and a top speed of 126mph. Despite the fantastic performance potential, the light weight of the Elise meant that it wasn't too thirsty for fuel and returned an official combined fuel consumption of 39.4mpg.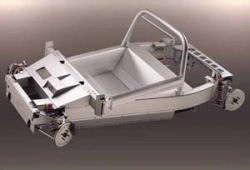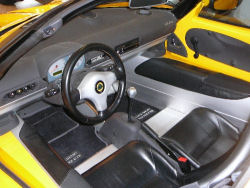 On release the Elise was an instant hit. Priced at £20,000, it represented fantastic value for money when lined up against other cars with similar performance. At the time, a 2.5 Porsche Boxster sold for £34,000 and was almost a second slower in the 0-60mph sprint (6.7 seconds). At the Frankfurt show interest was strong, but Lotus needed to sell 700 cars a year at the £20k price tag to break even. They came away from the show with 65 orders and within a month another 750 deposits had been taken. The future success of the Elise was clear, and Lotus had its lifeline.
The chassis represented Lotus at its best and magazine reviews were unanimous in their praise for the almost "telepathic" reactions to steering input. Perfectly suited for track work but equally at home on the open road, the Elise offered a practical solution for those buyers looking for everyday driving thrills but without the running costs of a German or Italian thoroughbred.
Sport 135 (1998-99)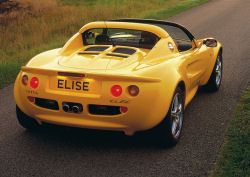 It wasn't long before Lotus began improving the basic Elise, releasing ever more powerful special editions.The first of these was the Sport 135, released in November 1998 as a limited run of 50 cars, featuring a tuned version of the K-Series engine giving 135bhp. It also had a close-ratio gearbox, sports exhaust and drilled brake discs, as well as various cosmetic changes such as sports seats, sports steering wheel and headlamp covers.
In 1999 there was another production run for the Sport 135, this time featuring wheels from the 111S and special decals.
111S (1999-2000)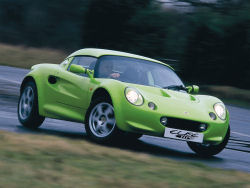 The 111S arrived in early 1999. Up to this point Lotus had been struggling to persuade Rover to supply them with their 1.8 VVC engine, as Rover feared this would harm the sales of their MGF. Eventually Lotus got their hands on the unit, and it made a welcome upgrade to the standard car. Power was increased to 143bhp and torque to 127lb.ft, and in conjunction with the close ratio gearbox the 0-60mph sprint dropped to 5.4 seconds and top speed increased to 133mph.
Sport 160 (2000)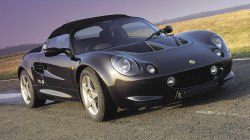 The 111S didn't last long in the Elise range, as it was replaced in 2000 by the Sport 160. Featuring an improved head from the Sport 135, new cams and an ECU upgrade, the early 160s gave 160 PS (or 158 bhp). These early models were designed to meet SVA (Single Vehicle type Approval) regulations, but later models were designed to meet WVTA (Whole Vehicle Type Approval) and produced only 148bhp.
From June 2000 two models were available, the 160 and 160S. The 160S included sports suspension,a category 1 alarm and radio fitting kit as standard.
Sport 190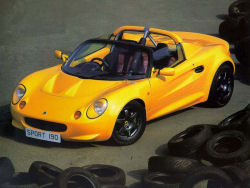 The Sport 190 was intended to be used on track, and as such did not pass UK emissions regulations. Offering 190bhp, it had a power to weight ratio of 283 bhp/tonne, allowing it to run 0-60mph in just 4.4 seconds and 0-100mph in 10.9 seconds.