Straight away the Volkswagen Polo GTI gets off to a good start. From a distance you could be forgiven for mistaking the Polo GTI for its bigger brother, the Golf GTI.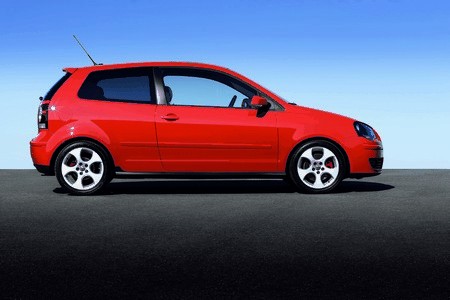 The Polo features smaller versions of the Golf's Monza alloy wheels, it has the same red-lined grill that harks back to GTIs of the '70s, and similar front treatment with deep grill, while at the rear you'll find twin exhausts. Inside the similarities continue, with the Interlagos chequered trim on the seats being exactly the same as the Golf, and silver-lined recessed dials finishing off a reasonably good quality cabin.
However, that's the good points over with, as things start to go down hill once you get on the move. While the Polo GTI may look like a miniature Golf, it doesn't inherit the Golf's excellent chassis. As you'd expect from a sporty model the Polo GTI is stiffer and lower than the base models, but sadly that's about as far as the chassis modifications go. The ride is harsh, with poor damping over rough surfaces, and yet there's still an excess of body roll and the cornering attitude is entirely nose-led. This isn't a car that encourages spirited driving, while being uncomfortable at low speed – not a good combination.
The Polo's turbocharged 1.8-litre engine has featured extensively throughout the Volkswagen group, from the 180bhp Seat Ibiza Cupra to the 225bhp Audi TT, yet in the Polo it is restricted to just 148bhp. Torque is high at 162lb.ft and gives the Polo plenty of mid-range punch, with maximum torque being available from below 2,000rpm. This means 60mph arrives in 8.1 seconds, but the manner in which it is delivered is far from interesting – the exhaust note is flat and uninspiring, and the flattened torque curve means very linear power delivery. Some might appreciate that, personally I like a bit of extra kick as the needle moves up the rev counter.
After a couple of hours behind the wheel of the Polo GTI I'd grown rather bored of it. Don't get me wrong, it's not a bad car, but it's not an exciting one either. At £15,200 it's not cheap and in terms of performance it doesn't compare well with other cars in the class – just look at the 197bhp Renaultsport Clio, the 189bhp Vauxhall Corsa VXR and 172bhp MINI Cooper S for more interesting alternatives.
2006 Volkswagen Polo GTI Specifications