If you're old enough (ahem!) you may remember that in 1983 Volkswagen brought out a limited edition Golf GTI Pirelli. With its 'P' alloys and cosmetic tweaks it was a popular model, and now we're set to get a new Volkswagen Golf GTI Pirelli edition here in the UK.
The Pirelli edition is based on the recent '30th Anniversary' limited edition of the Mk5 Golf GTI, that featured a 230bhp version of the 2.0-litre turbo engine. The Pirelli will also feature the same bodykit, the only external difference being the new 18-inch 5-spoke alloy wheel design wrapped in 225/40 Pirelli P-Zero tyres (surprise, surprise). If you look really, really closely and stretch your imagination you can just about make out the 'P' shape in the new wheels (but please don't hurt your eyes trying to find it).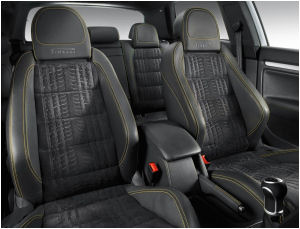 At the back you get a discrete Pirelli badge, as well as the smoked light clusters that featured on the GTI-30. As far as paint colours are concerned you're restricted to Reflex Silver, Diamond Black and Blue Graphite.
Internally you get half-leather seats with an imprinted tyre-tread effect and Pirelli logos, with bright yellow stitching on the leather that's carried across to the steering wheel, handbrake and gearstick. It's a slightly strange effect on the seats and personally I'd prefer to stick with the Interlagos checked cloth of the standard GTI, but that's not an option.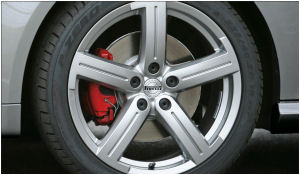 The additional 30bhp drops the 0-60 dash to 6.8 seconds and the top speed increases to 152mph.
If you're quick you can get your order in now before the first vehicles arrive in the country in June. Prices will start at £22,555 for a three-door model equipped with a six-speed manual gearbox, rising to £24,385 for a five door model fitted with a six-speed DSG gearbox. Judging by the success of the GTI-30 I doubt that the price hike will put people off and these things will fly out of the showroom.