If the official pictures are anything to go by, fans of little hot hatches should get very excited at the prospect of the upcoming Abarth 500.
Following in the footsteps of the Abarth Grande Punto, the Abarth 500 is a substantially tuned version of the Fiat 500. Taking the standard 500 as a starting point, Abarth adds a 1.4-litre turbo engine that kicks out 135bhp and 133lb.ft of torque (152lb.ft when you hit the 'Sports' button on the dash). They then lower the suspension to give better response, but not at the expense of ride quality like the Panda 100HP, which can shake your fillings out on anything but the best of roads.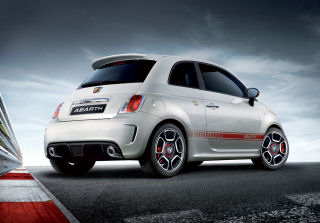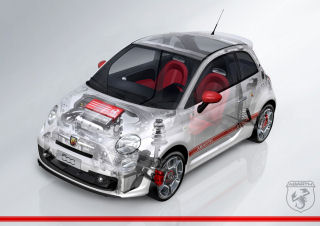 One interesting feature is a new Torque Transfer Control system that controls the amount of torque delivered to the front wheels, reducing torque-steer and improving the handling of the car. According to Abarth, the system 'ensures that the car behaves impeccably in bends, making it safer and more entertaining even with a sporty driving style.'
They then add a fantastic bodykit thats certainly not 'all show and no go'. A deeper front bumper gives an aggressive appearance but also hides two intercoolers, while at the back you get a Clio 197-style rear diffuser with twin exhaists and a high mounted spoiler. The car comes with 16″ alloys as standard, but looking at the optional 17″ wheels in the pictures I think you'd have to be right at the limits of your budget if you didn't tick the box on the order form.
There's no offical word on performance yet, but with 135bhp the little Abarth 500 will really show its competition a clean pair of heels. Expect 0-60mph to be in the region of 7.0 seconds. Size-wise its on a par with superminis like the Suzuki Swift Sport, Ford SportKa, and Fiat Panda 100HP, but performance-wise these cars don't stand a chance. It'll be even less of a clean fight if the Abarth gets the optional 'esseesse' kit, rumoured to boost power up to a slightly bonkers 180bhp. Then the Abarth will be snapping at the heels of the Corsa VXR and Mini Cooper S.
Prices are expected to be in the region of £14,000 when it hits UK showrooms in the summer. I can't wait to see this little hatchback in action!