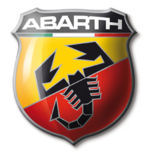 Abarth was formed as a tuning company by its founder, Carlo Abarth, back in 1949. Through the years it produced a string of very successful racing cars until in 1971 it was bought by Fiat, when it became the company's racing division.
Over the years it produced some wonderful little cars, including the fondly remembered rear-engined 695s, based on the Fiat 500, that won so many races against much more powerful competition. The company was also successful at rallying, with tuned Fiat 124s.
Fiat has given the Abarth name a bit of abuse over the last couple of decades. Instead of living up to its highly successful past it's been used to adorn bodykits and styling accessories that do absolutely nothing for performance. Gone are the glory days, forgotten by the marketing departments desparate to give their cars a bit of racing pedigree.
But that is set to change. The Abarth name is to be reborn as the fifth brand in the Fiat group (which consists of Fiat, Maserati, Lancia and Alfa Romeo). Abarth will have its own range of cars as well as producing kits to transform them into race or rally cars. This process has already begun, with the Grande Punto Super 2000 rally cars proving particularly successful in their first year of rallying.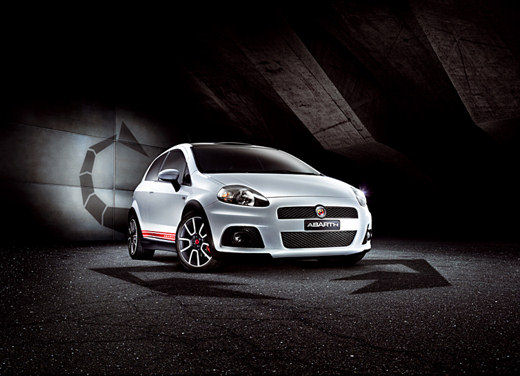 The first of the new road cars is on its way, and looking at the pictures you'll soon realise that its based on the Grande Punto. However, there is not a single Fiat badge on the car, with only Abarth badges visible. And under the skin the car has been extensively revised to give it more power and sharper suspension than the Fiat on which it is based.
Powered by a turbocharged 1.4-litre, 16-valve engine, the Abarth develops 155bhp, up from the 120bhp it offers in standard form in the Fiat range. Standard torque is also higher, with 152lb.ft available at 5,000rpm. However, there's also a Sport Boost button on the centre console that raises torque to 170lb.ft at a lower level of 3,000rpm, a useful boost for safer overtaking.
The suspension has been tweaked and is now 10mm lower and 20% stiffer, along with a 6mm wider track to accomodate the wider 17″ wheels. Brembo have provided the twin-piston brake calipers, which grip 305mm discs at the front, and the front anti-roll bar has been strengthened.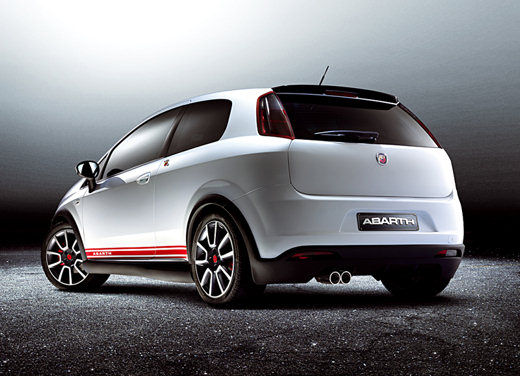 If you think that 155bhp isn't enough then you'll be interested in the Abarth accessories list, and in particular the Esseesse (SS) kit they offer. This provides the engine with a new ECU, freer-flowing intakes and a new exhaust that pushes power up to a much more competitive 180bhp, as well as 201lb.ft of torque.
The abarth Grande Punto is expected to go on sale in early 2008 for around £13,000, with the Essesse kit being available for about £3,500.
So what does the future hold for Abarth? There are rumours of a return to the 2-seater coupes of the past, possibly using the chassis of the new Fiat 500 as a starting point. There is certainly room in the Fiat family for a small coupe or two, which could easily be filled by Abarth without treading on the toes of Alfa Romeo.
What also works in Abarth's favour is the new approach taken by Fiat to styling, designing, engineering and testing. Much of this is now done virtually using computer simulation, with less money being spent on physical prototypes. This approach is paying off for Fiat, despite scepticism from the motor industry, as both the Bravo and 500 have gone from drawing board to production in only 18 months. It's not just cutting down on development times, as the Bravo has also been more favourably received than its predecessor, the unloved Stilo. If Abarth can make use of this cheaper and faster design process then they could easily start producing new cars that are deserving of the Abarth name of old.