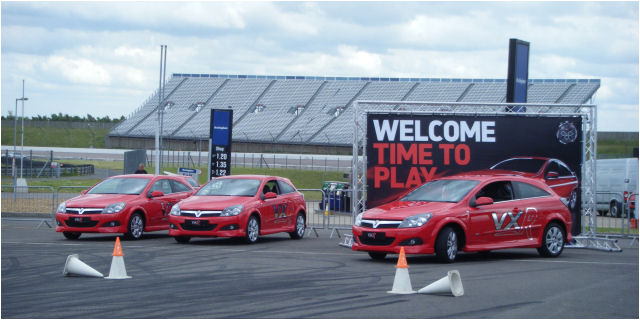 Well, I've made it back in one piece from another fantastic track day with Vauxhall, driving their VXR range. This year I attended the Rockingham event and it was an amazing day out, exactly the same as last year at Donington.
If you've not attended one of the VXR Track Days then you're missing out on the bargain of the century. For just £95 you get the following:
90 minutes of track time in any of the following from the VXR range – Meriva, Corsa, Astra, Vectra, Zafira and VXR8
A flying lap in an Astra VXR with Paul O'Neill, ex-Vauxhall BTCC driver
Auto-test against the clock in a 1.6-litre Astra
Slalom course against the clock in a 1.6-litre Astra
Two-wheeled passenger ride with Paul Swift
Demonstration of stunt-driving by Paul Swift
A free slap-up lunch with plenty of drinks, chocolates and ice-creams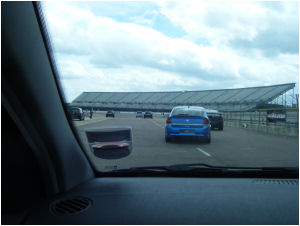 The highlight of the day is the 90 minutes on track, but believe me, it doesn't seem like 90 minutes! You get 3 laps in a car of your choice then return to the pits, jump out of the car and jump back into whatever's sat waiting in the pitlane. If you're after a specific car then you just wait for one to turn up.
It works brilliantly and if you're not too fussy about what you want to drive then you can spend most of your time behind the wheel insetad of queueing in the pit.
All of your laps are with an instructor by your side, but they're a tolerant bunch who will give helpful advice on improving your techniques, urge you on if you're doing OK, or tell you to slow down if you're driving like an arse! Fortunately I managed to stay in their good books throughout the day.
The cars are a varied bunch, each with their own character and performance potential:
Meriva – the slowest car here but hilarious fun, it's like a Bedford Rascal on steroids (in a good way)
Corsa – surprisingly quick for such a little car and very nimble around the corners, with good steering feel
Astra – turbo-nutter fast and corners really well, but light steering lets it down and you can tell the electronics are stopping it from shredding the tyres
Zafira – fast and more agile than you'd believe possible, perfect for the family man in a hurry
Vectra – very fast, great V6 soundtrack, loads of grip. Loved it!
VXR8 – what a monster! Heavy controls, but great to drive and extremely quick, I know I barely scratched the surface of this car's talents.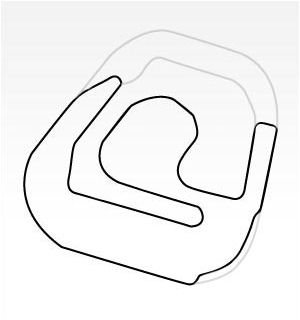 Rockingham itself isn't a great race track, as there's no chance to let the car flow through a good series of bends. With three 180-degree hairpins and two 90-degree corners you're constantly hammering the brakes, although the final banked corner onto the start-finish straight, that runs alongside the concrete wall, gives you a brief chance to rack up some serious speed. In the Vectra I was hitting 120mph+ before chucking out the anchors for the chicane.
Once the time ran out it was over to the auto-test area for a couple of timed runs around a course laid out with cones. This time the car of choice was a basic 1.6-litre Astra, with ABS disabled and over-inflated front wheels to make things a little harder. Both courses were tackled in first or reverse gear and were great fun, although at under 30 seconds each course was over very quickly!
Finally there was the opportunity to sit alongside Paul Swift, driving genius, as he got an Astra up on two wheels. Time and time again we watched as he went up a ramp and got the Astra on its side without ever toppling over.
The final bit of the day was a series of trick-driving demonstrations by Paul. These included J turns, parallel and reverse parking with a huge dose of handbrake, and finally a 3-minute display as he made the Astra dance around some parked cars. The guy's a genius!
At the end of the day you get to leave with a photo of yourself in whichever car you drove first on track, as well as a goodie bag containing some boring leaflets and a VXR keyring. Times must be tough as there was no polo shirt this year!
What's the downside, you may be asking? None – there's no hard sell, no bombardment with emails and promotional material through your letterbox. You can even claim your £95 if you go and buy a VXR before the end of the year.
All in all a fantastic day out and the cheapest way I know of getting quality tracktime. Thanks Vauxhall for a great day!
Sadly, that's it for 2008, the Rockingham event was the last in the calendar for the VXR events. If you're desperate to get on track you can wait for next year when Vauxhall may repeat the events, or you can get online and buy yourself a driving experience. Trust me, it's an experience you won't forget!