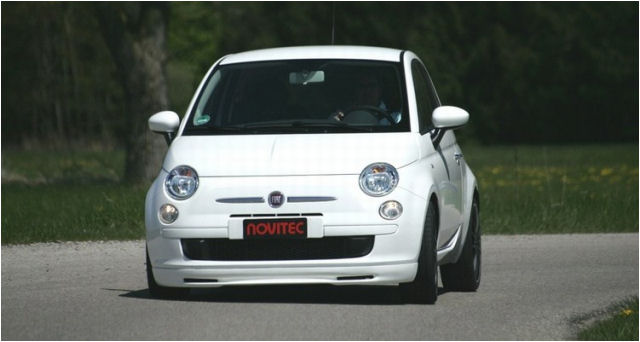 The Novitec Fiat 500 is the latest in a long line of tuned Italian cars from Novitec. They've previously tweaked Ferraris, Alfa Romeos and other Fiats, now it's the turn of the baby 500.
First of all Novitec tackled the 500's engines. The 1.3 diesel gets a mild power boost with a new plug'n'play POWERRAIL 4 control module, pushing power up from 70bhp to 83bhp, dropping the 0-60mph sprint to 11.9 seconds and raising the top speed to 103mph.
While the changes to the diesel might not be that exciting, the 1.4-litre petrol gets a much more significant performance boost with the addition of a supercharger. Power increases to 131bhp (from 100bhp) while torque increases from 97lb.ft to 127lb.ft, meaning 0-60mph takes only 8.8 seconds and top speed is raised to 124mph.
Novitec are offering a range of other upgrades. First on the list is a stainless steel exhaust with the choice of either one or two exhaust tips and much improved acoustics. Next you can add a front apron with spoiler and additional air dams and then choose 16 or 17 inch multi-spoke alloys.
There are two options if you want to modify the suspension, the cheapest being a set of sport springs fitted over the production shock absorbers, or a height-adjustable coil-over sport suspension set which allows the car to be lowered by anything between 30mm and 80mm.
The timing of this kit is useful, as Novitec might be able to steal a few sales by tempting impatient buyers away from the upcoming Abarth 500.
Check out the Novitec website, they've got lots of options for tuning anything from the humble Fiat Panda to the mighty Ferrari Enzo.