Hamann have turned their attention to the latest version of the MINI Cooper S and Cooper D and have produced a series of tempting performance upgrades.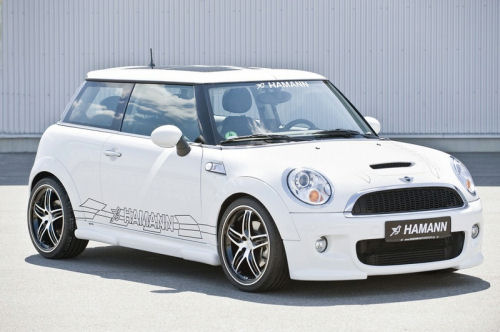 Starting off with the Cooper D, the diesel engine is boosted from 110bhp up to 136hp, with torque up to 222lb.ft. That's a lot of torque in such a small car, and don't forget that it should still be capable of over 60mpg.
The Cooper S gets two choices of upgrade, the first being a remap of the Bosch Motronic that loosens up another 29bhp from the 1.6-litre turbo engine. This pushes power up to 204bhp at 5,500 rpm and torque up to 222lb.ft between 1,600 and 5,000 rpm.
The second upgrade is the SPORTKIT CS 230 which takes the remapped ECU and adds an improved intercooler and sports exhaust to push power even further, now up to 230bhp. This is a significant gain and Hamann are claiming a half-second decrease in the 0-62mph time (making it roughly 6.6 seconds) and an extra 3mph on the top speed (making it 143mph).
Both cars can also be fitted out with an optional bodykit that includes aerodynamic bumpers and sideskirts that give better airflow and increased downforce. On top of that you can choose 18-inch HM EVO wheels as the default option with the kit, although Hamann offer a wide range of alloys. The ride height is also lowered by 30mm, with the fitment of an all-new coil-over suspension system.